March 8, 2019
Matthew Buller is a native of Lake Charles, Louisiana, and a candidate for the Artist Diploma at Oberlin Conservatory of Music, Oberlin, Ohio, where he studies with Arvid Gast. He earned his Bachelor of Music and Master of Music degrees from Oberlin in May 2017, where he had the privilege of studying with organists such as Nathan Laube, Liuwe Tamminga, Jean-Baptiste Robin, and Marie-Louise Langlais, in addition to his regular studies with James David Christie and Jonathan Moyer. He also studied harpsichord under Webb Wiggins and fortepiano under David Breitman. Since 2017, Matthew has been director of music and organist at Holy Family Catholic Church in Parma, Ohio. As a performer, he has performed extensively around the United States, in Montreal, Québec, and in Paris, France. He also performed on the 2015 Danenburg Honors Recital, in addition to performing on the Songsun Lee Memorial Concert in Vero Beach, Florida, in 2016.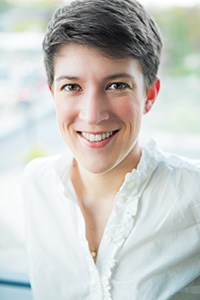 Originally from Lawrence, Kansas, Katie Burk is an organist, conductor, vocalist, and composer pursuing the Doctor of Music degree in organ performance at Indiana University, where she is a student of Christopher Young. An active organ recitalist and choral clinician, she currently serves as music intern at Trinity Episcopal Church in Bloomington, Indiana, under the direction of Marilyn Keiser, where she directs and accompanies both youth and adult choral ensembles and coordinates the Evenings at Trinity music and liturgy series. Additionally, she teaches undergraduate aural skills courses at the IU Jacobs School of Music. She holds the Master of Music degree in organ from IU and Bachelor of Music degrees in organ and music education summa cum laude from Saint Olaf College, Northfield, Minnesota, where she sang in the Saint Olaf Choir and studied organ with Catherine Rodland, conducting with Anton Armstrong and Christopher Aspaas, and voice with Karen Wilkerson. This summer, Katie will be a faculty member at both the Royal School of Church Music in America's King's College Training Course in Wilkes-Barre, Pennsylvania, and the Presbyterian Association of Musicians Conference on Worship and Music at Montreat, North Carolina.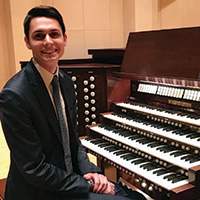 Jared D. Cook is a native of Houston, Texas, where he began his formal organ study at age seventeen with Stephen Morris. He is currently a junior organ performance and French major at Baylor University, where he studies with Isabelle Demers. In the 2018 William C. Hall Pipe Organ Competition, he was awarded first place in the undergraduate division, as well as the prize for outstanding hymn playing. During his sophomore year, he was selected as the organ division winner in the 2018 Baylor School of Music Semper Pro Musica Competition. An active recitalist, Jared has performed recitals at the Cathedral of Saint John the Divine, New York City, Saint Bartholomew's Episcopal Church, New York City, Christ Church Cathedral, Houston, among others.
Jared has served as organ scholar at Holy Spirit Episcopal Church in Houston and as principal organist at Saint Paul's Episcopal Church, Waco, Texas, where his responsibilities included accompanying the Chancel Choir and playing for services. Currently, he is serving as organ scholar at Preston Hollow Presbyterian Church, Dallas, Texas.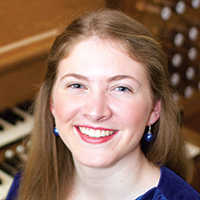 Carolyn Craig of Knoxville, Tennessee, is the 2018–2019 organ scholar at Truro Cathedral in Truro, England, where her duties include playing for at least three Evensongs per week and training the youngest boy choristers daily. She will begin a Master of Music in organ performance in 2019. Carolyn graduated summa cum laude from Indiana University in 2018, where she held the Wells Scholarship and was one of five graduating seniors to receive the Elvis J. Stahr Award for leadership and academic excellence. Carolyn graduated with a Bachelor of Music in organ performance in the studio of Christopher Young with minors in conducting and German. While at Indiana University, Carolyn was organ scholar at Trinity Episcopal Church with Marilyn Keiser.
Carolyn began her keyboard studies as a pianist and performed in Carnegie Hall at age 14 as a winner of the American Protégé International Talent Competition. At the age of seventeen, Carolyn won the Region IV Quimby Competition for Young Organists and performed a Rising Star recital for the 2014 American Guild of Organists national convention in Boston, Massachusetts. She has since been heard on Pipedreams and in recital domestically and abroad, in venues such as St. Paul's Cathedral, London, England.
Conductor and organist Bryan Dunnewald of Arvada, Colorado, has performed in numerous venues across the country, from the Washington National Cathedral to the Mormon Tabernacle. From 2015 to 2018, he served as organ scholar at Saint Mark's Church, an Anglo-Catholic parish in Philadelphia, Pennsylvania, and as assistant organist at Macy's (formerly Wanamaker's) department store, giving frequent concerts on the largest organ in the world. Bryan enjoys collaborating with ensembles large and small and has performed with the Philadelphia Orchestra, the Colorado Symphony, the Curtis Symphony Orchestra, and numerous chamber ensembles as an organist and harpsichordist. As a conductor, Bryan has led a variety of ensembles, from orchestras at Curtis to choirs in Denver. He is an active composer and recently conducted the premiere of his Missa Brevis: Saint Mark with Saint Mark's Parish Choir. Bryan currently lives in New York City where he pursues a master's degree in orchestral conducting with David Hayes at the Mannes School of Music. He is a graduate of the Curtis Institute of Music and Interlochen Arts Academy, earning over the course of his studies the highest honors in music, academics, citizenship, and character. Bryan's teachers and mentors include Alan Morrison, Robert McCormick, Jonathan Coopersmith, Leon Schelhase, Thomas Bara, Steve Larson, Martha Sandford-Heyns, and Joseph Galema. In the summer of 2018, he worked at Schoenstein & Co., developing his love of organbuilding as an apprentice to Jack Bethards.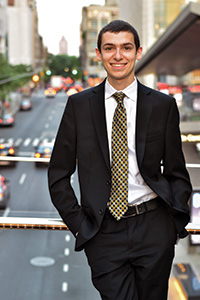 A native of Pittsburgh, Pennsylvania, Daniel Ficarri is a graduate student at The Juilliard School, studying with organist Paul Jacobs. Ficarri is recognized as a performer of both new music and standard classical repertoire—The New York Times listed his performance of John Cage's Souvenir under the "Week's 8 Best Classical Music Moments," and WQXR broadcast his live all-Bach performance as part of their "Bach Organ Marathon." He has performed around the country and at New York City's Cathedral of Saint John the Divine, Saint Thomas Church, and Trinity Church Wall Street. His orchestral performances have included engagements with the Florida Orchestra and the Juilliard Orchestra in Carnegie Hall and Alice Tully Hall. Ficarri has also composed extensively for the organ—his Exultation was commissioned by Choir & Organ magazine for the dedication of the Miller-Scott Organ at Saint Thomas Church. An active church musician, Ficarri is currently organ scholar at Church of Saint Paul the Apostle in Manhattan, where he founded the organ concert series "Sacred Sounds at Saint Paul's." Previously, he served as organ scholar at Hitchcock Presbyterian Church in Scarsdale, New York. For more information, and to purchase sheet music, visit www.danielficarri.com.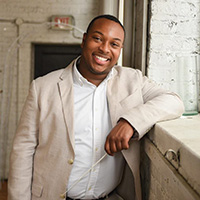 Raised in Chicago, Illinois, Julian J. Goods is a senior at the University of Michigan pursuing a Bachelor of Music degree in choral music education. He has a primary focus in voice and secondary focuses in pipe organ and conducting. Over the last few years, Goods has worked closely with the choral conducting and music education faculty to help find ways in which he can become a successful and effective teacher in schools with primarily African American student populations. In the fall, he will be starting a Master of Music degree in choral conducting at the University of Michigan. Goods serves as the music director for the Michigan Gospel Chorale and organist at both Hartford Memorial Baptist Church and Tabernacle Missionary Baptist Church in Detroit. He is a member of the American Guild of Organists, American Choral Directors Association, and the National Association of Negro Musicians where he serves on the Collegiate Board and as the recording secretary for the Central Region.
Conner Kunz was born in Delta, Utah, to Mark and Beverly Kunz and has always had a fascination with music, the pipe organ, and large mechanical devices. He graduated from Delta High School and currently studies business management at Utah Valley University and also works with Bigelow & Co. organbuilders as a part-time craftsman. His main areas of interest in the organ world include the mechanical creation of the organ, as well as voicing and tuning of pipes, and he hopes to continue to broaden his skills in those areas.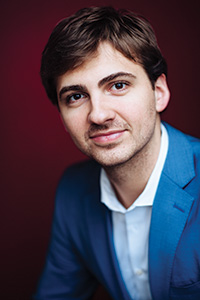 Colin MacKnight is a third year C. V. Starr Doctoral Fellow at The Juilliard School, where he also completed his bachelor's and master's degrees. He studies with Paul Jacobs, Grammy award winner and chair of the organ department, and is working on his dissertation entitled "Ex Uno Plures: A Proposed Completion of Bach's Art of Fugue." Colin also serves as associate organist and choirmaster at Cathedral of the Incarnation on Long Island. Before Incarnation, Colin was assistant organist and music theory teacher at Saint Thomas Church, Fifth Avenue.
Colin's first prizes and scholarships include the 2017 West Chester University International Organ Competition, 2016 Albert Schweitzer Organ Competition, 2016 Arthur Poister Scholarship Competition, M. Louise Miller Scholarship from the Greater Bridgeport Chapter of the American Guild of Organists, the 2013 Rodgers North American Classical Organ Competition, and the Ruth and Paul Manz Organ Scholarship. He also won the New York City and Northeast regional AGO competitions. In addition, Colin received the Clarence Snyder Third Prize in the 2016 Longwood Gardens International Organ Competition and is a Fellow of the American Guild of Organists.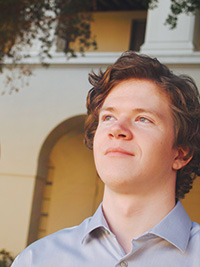 Born in Lyon, France, Thomas Mellan won first place in the Musical Merit Foundation's national competition in 2016. In 2011, he recorded for the official documentary of the Walt Disney Concert Hall organ. He performed as a Rising Star in the American Guild of Organists' West Region Convention and the Spreckels Centennial International Festival in 2015. As Young Artist of the Year, he played in the 23rd International Festival of St. Eustache in Paris, France. In 2018, his European tour included a residency at the Organ Hall in Lviv, where he gave the Ukrainian premiere of Messiaen's Livre d'Orgue.
His compositions include orchestral, chamber, and solo works, which have been performed in France, America, Canada, and Ukraine. Mellan was the Outstanding Graduate of the undergraduate class of 2017 at the University of Southern California, Thornton School of Music, graduating with a double major in organ and composition.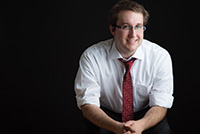 Alexander Meszler is a Doctor of Musical Arts degree student in organ of Kimberly Marshall at Arizona State University. He currently lives in Versailles, France, on a Fulbright award where he investigates secularism and the organ and studies with Jean-Baptiste Robin. Meszler completed his master's degree in organ performance and music theory at the University of Kansas where he studied organ with Michael Bauer and James Higdon and his bachelor's degree in organ with Kola Owolabi while at Syracuse University.
Alexander has been a finalist in several performance competitions and, in 2016, he won second prize at the Westchester University Organ Competition. A strong advocate of music by living composers, he currently serves as a member of the American Guild of Organists' Committee on New Music. He has collaborated with composers Huw Morgan, Hon Ki Cheung, and George Katehis on the premieres of their organ works.
In 2017, he was awarded a grant from the Arizona Center for Renaissance and Medieval Studies for a project titled, "Crossroads for the Organ in the Twenty-First Century: A Precedent for Secularism in the First Decades of Sixteenth-Century Print Culture." He has presented papers and lecture-recitals at conferences including the Rocky Mountain chapter of the American Musicological Society, the Westfield Center for Historical Keyboard Studies, and the Historical Keyboard Society of North America. He is making his first significant interdisciplinary contribution this June at the European Association for the Study of Religions' annual conference.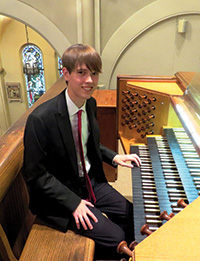 Collin Miller is a native of Lafayette, Louisiana, and is a junior organ performance major at the Indiana University Jacobs School of Music where he is a student of Janette Fishell. He began playing piano at the age of five, receiving initial training from Rosa Lynne Miller and then studying with Susanna Garcia. In his freshman year of high school, Collin began taking organ lessons with Tom Neil and has since held church positions as pianist and organist at Northwood Methodist Church and the Episcopal Church of the Ascension in Lafayette. He was the winner of the 2017 American Guild of Organists Southwest Regional Competition for Young Organists and is a recipient of the Barbara and David Jacobs Scholarship.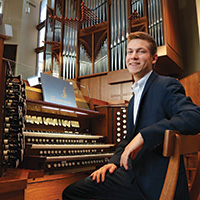 Ryan Mueller holds a lifelong fascination of music, history, and all things mechanically inclined. A native of Milwaukee, Wisconsin, he credits the region's landscape of instruments as inspiration for his love of pipe organs. Ryan began piano studies in third grade with Susan Eichstadt and began organ as a freshmen in high school with John Reim. Frequently called upon as a recitalist, lecturer, and writer, he recently founded Cream City Preservation, Inc., a non-profit organization dedicated to the advocacy of historic instruments, buildings, and artifacts. Ryan has served in various local American Guild of Organists and American Theatre Organ Society chapters and is also an active member of the Organ Historical Society, AGO's Young Organist division, Association of Lutheran Church Musicians, and National Trust for Historic Preservation. He was a recipient of an OHS E. Power Biggs Fellowship in 2014 and was a scholar at the 2017 American Institute of Organbuilders convention. Ryan currently resides in Ogden, Iowa, working for Dobson Pipe Organ Builders Ltd., of Lake City, Iowa. While he takes part in a wide variety of service work and shop activities, Ryan's primary responsibilities at Dobson revolve around the tonal department. Outside of the organ scene, he thoroughly enjoys restoring classic cars, photography, cycling, and spending time with his fiancée Emily, to whom he will be married in June 2019.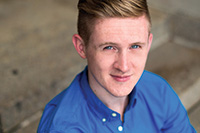 Kevin Neel enjoys a versatile career as organist, collaborative pianist, conductor, singer, and arts administrator. He has been heard at the organ in numerous venues including Symphony Hall, Old South Church, Emmanuel Church, Old West Church, all in Boston, Massachusetts, as well as in the southeast. In December 2016 he co-founded The Brookline Consort, a choral ensemble for which he serves as co-artistic director, baritone, and primary accompanist, a group whose mission is to tell stories through diverse, thoughtful programming performed at the highest level. As a singer, he has sung with the Marsh Chapel Choir, Emmanuel Music, Cantata Singers, and VOICES 21C. He is organist and chapel choir director at Emmanuel Church, Boston, and serves as executive director for Coro Allegro and organist for Saint Clement Eucharistic Shrine. He holds degrees from Boston University in choral conducting and Indiana University in organ performance and is originally from the Charlotte, North Carolina, area.
Jessica Park is a native of Saint Paul, Minnesota, and is the chapel organist and assistant liturgical musician at the Chapel of Saint Thomas Aquinas of the University of Saint Thomas, Saint Paul, Minnesota, where she is the principal musician of the chapel and director of the Schola Cantorum. She received the Doctor of Musical Arts degree in organ performance from the University of Minnesota—Twin Cities, where she studied with Dean Billmeyer. Jessica received the Master of Music degree in Historical Performance and Bachelor of Music degree in Organ Performance at Oberlin Conservatory of Music, Oberlin, Ohio, where she studied organ with James David Christie, Jonathan Moyer, Olivier Latry, and Marie-Louise Langlais, and harpsichord and continuo with Webb Wiggins. She received first prize at the 2013 American Guild of Organists/Quimby Competition for Young Organists (Region VI) and performed as a "Rising Star" at the 2014 American Guild of Organists national convention in Boston, Massachusetts. She was the featured organist for the inaugural 2014 Twin Cities Early Music Festival and was also a performer at the 2017 Organ Historical Society Convention held in Minneapolis. Her performances have been broadcast on American Public Media's Pipedreams.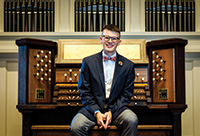 Heralded by The Baltimore Sun as a "rising organ star," Jordan Prescott has established himself as one of the leading organists, church musicians, and directors of his generation. A native of Greenville, North Carolina, Jordan holds the Bachelor of Music degree in organ and sacred music from East Carolina University, Greenville, North Carolina. While at East Carolina, Jordan spent two years as organ scholar of Duke University Chapel in Durham, North Carolina. He is now pursuing a Master of Music degree in organ performance at the Peabody Conservatory where he studies with John Walker. Jordan formerly studied with Andrew Scanlon and Christopher Jacobson. In 2018, Jordan won first prize in the 16th International Organ Competition at West Chester University. He was a 2015 E. Power Biggs Fellow with the Organ Historical Society and currently serves as the Mid-Atlantic Chair for the American Guild of Organists Young Organists. Jordan has research set for future publication in The American Organist, and his performances have been featured on WBJC radio. Jordan is in his seventh season as associate musical director of The Lost Colony, America's longest-running outdoor drama. Under his direction, The Lost Colony Choir has risen to critical acclaim and was featured as part of the Sing Across America campaign honoring the centennial of the National Parks Service.
Alexandria Smith is a pipe organ technician currently employed at John-Paul Buzard Pipe Organ Builders. She has passionately trained as a musician since a young age, beginning with piano before starting oboe. Her journey as an instrument technician began while she was a freshman in college.
In spring 2017 through winter 2018, Alexandria studied organ with Joby Bell and was awarded the Wallace Organ Scholarship. Alexandria received the E. Power Biggs Fellowship of the Organ Historical Society in 2018, deepening her love of historic organs. She will graduate from Appalachian State University with a Bachelors in Music Industry degree: merchandising and manufacturing, with a minor in general business in May 2019. Alexandria spent two summers as an intern at Buzard before beginning full-time work in January 2019. She finds maintaining instruments and keeping the builders' original style as alive as possible extremely rewarding. Her work lies mostly in late nineteenth- and twentieth-century organs.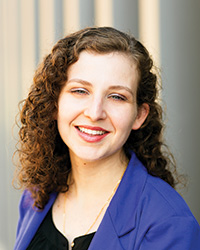 Emily Solomon is currently pursuing a Doctor of Musical Arts degree in sacred music from the University of Michigan, Ann Arbor. Her prior degrees include dual Master of Music degrees in early keyboard instruments and sacred music from the University of Michigan and a Master of Arts in music research from Western Michigan University with a thesis on Johann Walter's Geistliches Gesangbüchlein. Emily is the executive director for the Academy of Early Music in Ann Arbor and cantor of Zion Evangelical Lutheran Church of Detroit, Michigan. She is also a continuing visiting artist in harpsichord at Western Michigan University. In May 2018, Emily was invited to perform on the Nordic Historical Keyboard Festival in Kuopio, Finland. She toured Germany, Poland, and the Czech Republic as the organist for the Concordia University Ann Arbor choir in May 2017. A proud Michigan native, Emily is a Certified Tourism Ambassador™ for Washtenaw County and serves on the board of the Soo Locks Visitors Association in the Upper Peninsula.
Mitchell Stecker is director of chapel music and carillonneur at The Citadel, Charleston, South Carolina. He is an alumnus of the University of Florida (Bachelor of Music and Bachelor of Arts in linguistics, 2014), studying principally with Laura Ellis. In 2015, Mitchell spent six months at the Royal Carillon School (Mechelen, Belgium) before returning to UF to pursue the Master of Music (musicology), which he will receive in May of this year. Prior to his current role, Mitchell served as carillon fellow to Geert D'hollander at Bok Tower Gardens, Lake Wales, Florida, from 2017 to 2018.
Mitchell is also an active composer, with titles published by the Guild of Carillonneurs in North America and American Carillon Musical Editions, and with several commissions in progress. His scholarly interests include shape-note music, campanological topics, and the music of Peter Benoit and the Flemish Romantic. He is an active member of the GCNA, serving as the guild's corresponding secretary since 2017; in 2016, he was awarded the guild's Barnes Scholarship to study Roy Hamlin Johnson's monumental Carillon Book for the Liturgical Year and its relation to Bach's Orgelbüchlein. In his free time, Mitchell is an avid fasola singer, enjoys studying languages, and is passionate about good food and drink.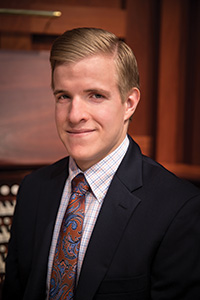 A Dayton, Ohio, native, Grant Wareham began organ studies with Jerry Taylor in 2007. He earned his Bachelor of Music degree at Rice University's Shepherd School of Music, Houston, Texas, where he studied with Ken Cowan, graduating cum laude and with distinction in research and creative work. While at Rice, Grant served as Moseley Memorial Organ Scholar and assistant organist at Saint Thomas Episcopal Church, Houston, and as associate organist at Palmer Memorial Episcopal Church, Houston, where he worked with music director Brady Knapp and artist-in-residence and organist Ken Cowan.
Winner of both the First and Audience prizes at the 2017 Albert Schweitzer Organ Competition in Hartford, Connecticut, Grant was also a featured performer at the 62nd annual convention of the Organ Historical Society in Saint Paul, Minnesota. This June, he will compete in the 2019 Longwood International Organ Competition at Longwood Gardens in Kennett Square, Pennsylvania.
Grant is currently pursuing his Master of Music degree at the Yale University Institute of Sacred Music and School of Music, New Haven, Connecticut, where he studies organ with Thomas Murray. He also serves as organ scholar at Christ Church, New Haven, one of America's renowned Anglo-Catholic parishes, where he works alongside choirmaster Nathaniel Adam and organist and artist-in-residence Thomas Murray.