September 1, 2023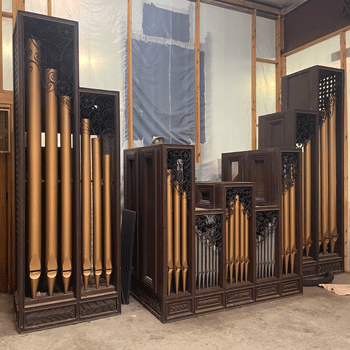 Pipes, chests, reservoirs, blowers, Swell boxes and shades.  15 Vintage solid-wood consoles.  7 sets of Chimes.  Over 200 ranks of pipes (flues and reeds) in pipe trays for less than $100 per rank.  Multiple sets of 16' Bourdons.  12,000 square feet of inventory to be sold for pennies on the dollar to avoid going to the landfill.  Speakers of all sizes, some in cabinets.  Leslie units and miscellaneous electronics.  Organ benches and more.  Calling all organ builders, hobbyists, DIYers.  Bring cash, a truck or trailer, and a crew to load. 
Going out of business.  Wall to wall, everything must go before December 31, 2023.  
By appointment only.  734 Garcitas Creek Road, Inez, TX.  361-571-2310.  
More photos below under DOWNLOAD.
Contact Info
Company / Name: Franklin Pipe Organs
Phone: 361-571-2310