November 16, 2022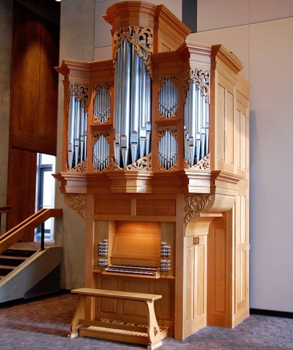 University of Washington
Full-time Artist in Residence of Organ Performance
Description: The School of Music at the University of Washington announces a full-time organ performance position to begin September 16, 2023. The appointment is at the rank of Artist in Residence for an initial three-year contract, which is renewable. The term of service annually is 9 months (September 16–June 15).
The individual selected will be required to: 1) build and sustain a successful organ studio; 2) to envision, organize and administer the development of the Organ Performance Program; and 3) to demonstrate continued growth in a national/international career as a performing artist with a commitment to music ranging from the early masterworks to experimental contemporary genres. The individual should also be highly interested in collaborations with other areas within the School of Music, the university, and beyond.
Responsibilities: Private instruction in organ, and secondarily harpsichord at the undergraduate and graduate levels; recruitment of organ students; coaching of the Baroque Ensemble and offering courses in improvisation; teaching keyboard harmony, liturgical skills, pedagogy and repertoire courses; holding Performance class; participation in auditions, juries, student advising, administrative work with Keyboard Performance colleagues, as well as pertinent School of Music meetings and other responsibilities as assigned by the Director. UW faculty are expected to engage in teaching, research, and service.
Qualifications: Doctoral degree (or international equivalent) and/or significant professional experience. Examples of significant professional experience may include: 5 or more years of extensive public performance, including collaborative activities. Some prior university experience is preferred.
Application Instructions: Applications should include 1) a letter describing the applicant's experience, interests and suitability for the position, 2) a statement on perspectives and contributions to equity, diversity and inclusion, 3) a curriculum vitae, and 4) three letters of reference. In the C.V., please include a section of "Selected online links" to no more than three solo recordings or performances for the committee's consideration. Supplemental materials will be requested from short-listed applicants. Priority will be given to applications received by November 15, 2022. All materials should be submitted via Interfolio: https://apply.interfolio.com/114988.  For questions, please contact Professor Robin McCabe at [email protected]; please reference Organ Performance Search.
Equal Employment Opportunity Statement 
The University of Washington is an affirmative action and equal opportunity employer. All qualified applicants will receive consideration for employment without regard to race, color, creed, religion, national origin, sex, sexual orientation, marital status, pregnancy, genetic information, gender identity or expression, age, disability, or protected veteran status.
Commitment to Diversity 
The University of Washington is committed to building diversity among its faculty, librarian, staff, and student communities, and articulates that commitment in the UW Diversity Blueprint (http://www.washington.edu/diversity/diversity-blueprint/). Additionally, the University's Faculty Code recognizes faculty efforts in research, teaching and/or service that address diversity and equal opportunity as important contributions to a faculty member's academic profile and responsibilities (https://www.washington.edu/admin/rules/policies/FCG/FCCH24.html#2432).
Contact Info
Company / Name: